SERVPRO Professionals Are Always Ready To Help!
7/29/2021 (Permalink)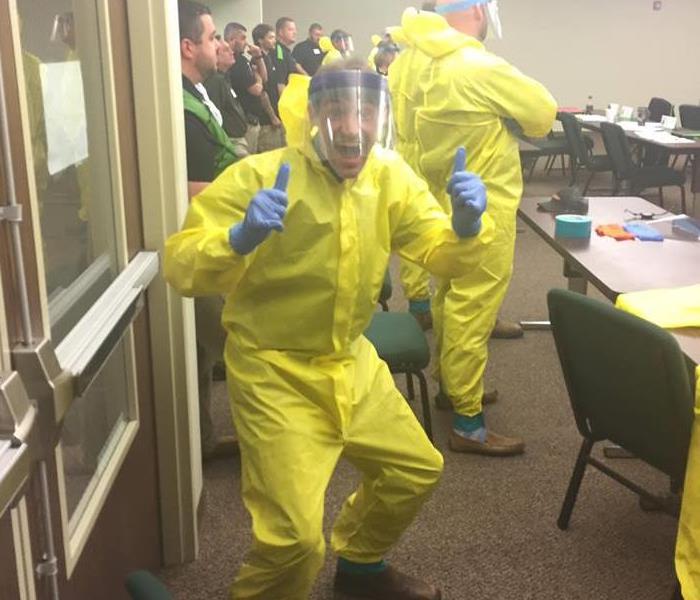 Our SERVPRO staff undergoing training and certification to be able to better meet their communities needs.
By choosing Certified: SERVPRO Cleaned, you, your employees, your customers, and your community can rest assured that you've selected a higher cleaning standard – you are Certified: SERVPRO Cleaned.
Beyond fire, water, and mold mitigation and restoration services, SERVPRO professionals are trained and experienced in biohazard decontamination and chemical spills, always adhering to the cleaning and decontamination standards set forth by the Centers for Disease Control and Prevention and local authorities.
Certified: SERVPRO Cleaned – Program
The program is grounded in our unique 3 C's: Consult, Clean, and Certify.
Consult
Not all businesses are the same, which is why SERVPRO professionals understand that each business will need to create a custom cleaning program to meet their specific needs. SERVPRO has worked in a wide variety of industries, with businesses ranging from start-ups to global organizations. The business's specific program will be developed based on a range of factors including business type, size of space, amount of high frequency touch points, foot traffic, and congestion points. As a result, they'll know that Certified: SERVPRO Cleaned is not just the industry-leading standard in clean, they'll know that the clean they receive is customized to their unique needs.
Clean
Based on the specific needs of their business, properties will undergo a thorough, expert cleaning. Combining our proprietary training, cleaning solutions, and processes creates a solution that will provide their business, employees, and customers the peace of mind that they are Certified: SERVPRO Cleaned. SERVPRO professionals have years of experience in dealing with biological contaminants, and we will go beyond the scope of work that regular janitorial staff perform.
SERVPRO professionals are trained to perform proactive or emergency responsive cleanups that involves facility or structure cleaning and disinfection. In the event of a suspected or confirmed COVID-19 event, a SERVPRO professional will be there ready to safely and thoroughly clean, sanitize, and disinfect the facility to ensure they get back to business as quickly as possible.
Certify
We're going to extend our credibility as the premier biohazard cleaning company in the country to their business—to give assurance to their employees and customers that only SERVPRO can deliver. Once their business location has been Certified: SERVPRO Cleaned, they will gain access to propriety signage, digital emblems, and other collateral that communicates that they've selected the highest standard of cleaning available to protect their employees and customers. And because we add the date to that proprietary stamp of clean, their guests will know that their location is being cleaned regularly at this standard
Call today for a Certified: SERVPRO Cleaned consultation
We're Here to Help! Call SERVPRO of East York today at 717-665-1270.