Remediation and Restoration
7/23/2021 (Permalink)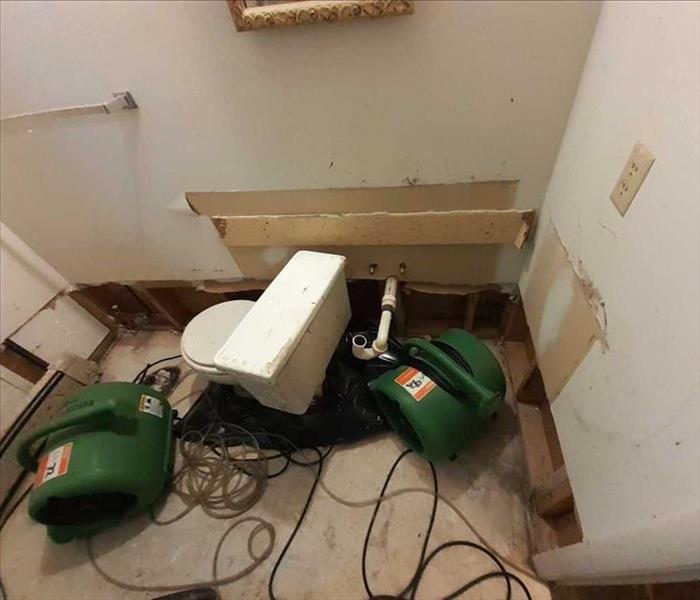 An example of a water damaged bathroom that lead to the growth of mold. SERVPRO professionals was called on to complete the restoration process.
WATER DAMAGE:
Water damage can happen anywhere, but some areas and types of damage occur far more often than others. When problems go beyond simple cleanup and sanitation, your cleaning personnel or company may be ill-equipped to handle the consequences of significant water damage. SERVPRO of East Lancaster specializes in providing fast and efficient services, ensuring all affected areas are clean, undamaged, and pleasant-smelling after a water loss.
COMMON WATER LOSS CAUSES:
Plumbing Overflow -
A common reason for us to be called to a site for water damage is when a sink, toilet, or bathtub overflows. In commercial settings, like hotels, determining when, where, and why water damage has occurred can sometimes be difficult. At times, it may be days or more before you discover a water loss, and water can begin to leak elsewhere, causing further damages. Our team of professionals will draft a detailed assessment of the situation, and can provide an estimate of our projected work times and costs.
Water Line Leaks and Breaks -
With water lines running throughout the building, it may not be uncommon for them to leak or burst, especially if they are older. Be sure to call SERVPRO of East York as soon as you suspect that a water line may have been ruptured. The speed of our response may be critical in preventing further damages. To avoid most water line problems in your home or business, make sure that pipes receive semi-regular maintenance and checkups.
Open Windows -
Sometimes we want a bit of fresh air, so we open a window. If you forget to close the window before a storm rolls through your area, water damage can occur quickly. Rain pouring into your structure through an open window can cause significant damage to furniture, walls, and flooring, but most of the worst effects can be prevented through a quick call to SERVPRO.
WHAT OUR TECHNICIANS WILL DO:
Assess damages and determine if site is safe
Determine the extent of the moisture content in affected areas
Move furniture that may hinder drying results
Extract water
Remove drywall and flooring (if necessary)
Start the drying process with air movers and dehumidifiers
Ensure rooms are completely dry and conduct a walk through with home/business owners, to guarantee customer satisfaction
WHO TO CALL:
At SERVPRO of East York, no job is too big or too small for our Team of certified and highly trained experts. If water damage occurs in your residential home or commercial property, call the professionals at SERVPRO of East York at (717)-665-1270. It is important to call as soon as possible because water damage that has not been mitigated by professionals, can quickly become a breeding ground for mold or further damages.