Mold Remediation near Me
4/22/2022 (Permalink)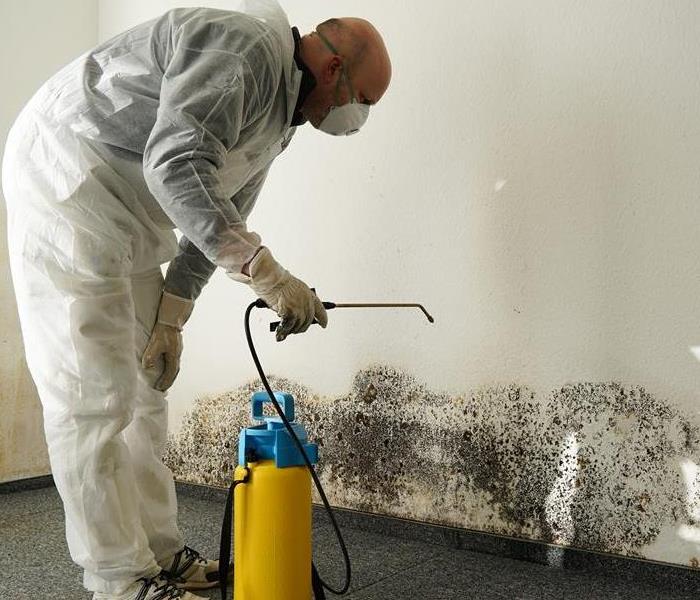 When mold starts to grow in your home or business, dealing with it quickly and safely should be a priority. At SERVPRO of East York, our mold remediation services will help remove mold from your premises with as little disruption to your family or business as possible.
Mold can take less than 24 hours to start growing and less than 72 hours to spread throughout a property. If you have a mold or mildew problem, give us a call as soon as possible.
Remove Mold for Your Health and Safety
When we say "remove," what we really mean is remediate. After all, there's no way to completely eliminate this pesky problem. Mold spores are present everywhere, indoors and outdoors.
Also, mold spores thrive on water. Whether it's from a leaky roof, a burst pipe, or floodwaters from the most recent storm, any source of water can feed mold spores and cause them to grow into colonies—the visible mold you're familiar with seeing. These colonies may produce allergens and irritants.
Breathing mold can cause allergic and respiratory symptoms. Whether it's you, your family, or your fellow coworkers and/or employees, you want the most important people in your life to be able to go about their lives in a healthy way. Hence, you need mold remediation.
Our 24-Hour Mold Remediation Services
Why choose your local SERVPRO location for your mold remediation services? It's simple: We're a local company with the national resources to respond to your problem quickly.
Have you recently had water damage in your home or business? Our team can assess the damage and remove the source of water, drying and dehumidifying your property. That's a necessary first step, but next, it's important to address the mold or mildew problem head-on.
We will contain the mold and filtrate the air to remove mold spores from the air. Then, our team will remove mold colonies and mold-infested materials, as well as clean the contents of mold-infested rooms. Finally, we'll restore any damaged structures to their pre-mold conditions.
Mold damage restoration is the cornerstone of our business. We have specialists available 24 hours a day, seven days a week. We'll send the expert technicians you need to get your home or business back to normal:
Applied microbial remediation specialists
Water damage restoration technicians
Applied structural drying technicians
Where Can I Get Mold Remediation near Me?
If you find yourself dealing with a mold or mildew problem, don't wait to have it addressed. Turn to the team at SERVPRO of East York for mold remediation and removal near you.
We're Faster to Any Size Disaster. We'll quickly deploy the specialists your mold problem demands, so you can return to a normal, mold-free life sooner!