How to Prevent Pipes Bursting in Aging Buildings
1/13/2023 (Permalink)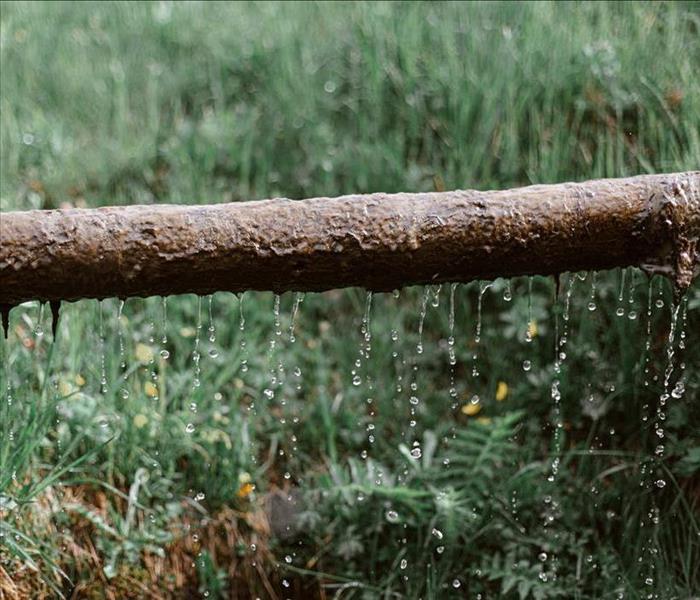 While winter can be a relaxing time to enjoy a slower rhythm, a larger threat can loom silently amidst plunging temperatures and freezing conditions for those living or working in an aging building. Older pipes translate to thinner and more exposed piping that can be worn down or damaged. This may put you at risk of a burst pipe, leading to costly restoration and repair of your home or office space.
So why do pipes burst? And what puts your home or office building at a higher risk of bursting pipes? Keep reading to learn more about preventing pipe bursts, especially in aging buildings, and how you can mitigate your risk factors, keep your building dry, and put your mind at ease.
Risk Factor: Corrosion
Corrosion happens to any pipe carrying water. Older homes or buildings may be at risk for increased corrosion due to the age and material of the pipe.
As water travels through pipes, the pH levels cause corrosion over time. The inside lining of pipes becomes worn by water travel, and if the water traveling through your pipes is hard (as opposed to soft water), the elements can corrode your pipes even faster. Pipes affected by corrosion can weaken, leaving them vulnerable to bursting by built-up water pressure, a result of plunging temps and freezing water.
If your pipes are older, consider having a water expert examine your water pH levels before potentially replacing them with newer pipes.
Risk Factor: Water Hammer
What's that sound? Have you ever wondered what the gong sound or clang/bang is when you turn on your heat?
Commonly known as a water hammer, this phenomenon happens when you have an unsteady and uneven water flow in your pipes. The risk of pipes bursting results from uneven air pressure build-up. The presence of a water hammer in your pipes may also indicate that your pipes are worn or damaged (especially in older homes and buildings).
Having a plumber drain and refill your pipes may help mitigate water hammer in your pipes. You can also install air valves that let off air build-up, reducing the water hammer in your pipes.
Risk Factor: Extended Leave
Winter is a time when your home or office building may be vacant for longer than is typical due to extended vacation or time off from business. Leaving a home or building vacant isn't something you need to avoid altogether, but rather an important time to evaluate how you leave your home or office when traveling or closing.
Be sure that the temperature inside your home or office building doesn't dip below 55 degrees Fahrenheit. If possible (and especially if your home or office building is older), have someone check on the status of your home or building if the outside temperatures make any sudden downward dips. Before leaving, ensure you've turned off the water inside your home. And turn off your outdoor water in the fall every year!
Risk Factor: Being Uninsured
Lastly, be insured! While being insured won't reduce the chance that a pipe bursts, it will give you peace of mind if you end up needing repairs.
Review your homeowner's policy or building contract to ensure that water damage is included. Double-check that your policy is up to date and explicitly covers damaged pipes. If you find that you are lacking coverage, contact your insurance company to make immediate updates to your policy. Keep in mind that water damage coverage may be nullified if you neglect to make repairs to damaged pipes.
Water Damage Remediation in East York
This winter, keep your costs down and put your mind at ease. Examine your home's water pipes today and make a plan to mitigate potential water damage resulting from burst pipes.
If you need water damage remediation from burst pipes in your home or office building, don't hesitate to call SERVPRO of East York immediately. As a trusted leader in the restoration industry, we understand the unique needs of both home and business owners. We know your home is your safe space, so we offer 24-hour emergency service and advanced restoration and cleaning equipment in our residential services department.
Likewise, as a business owner with water damage in your building, we understand that time is quite literally money. We have the capacity to remediate commercial buildings on a large scale.
SERVPRO of East York is here for you, so please don't hesitate to contact us for more information.