What Should I Do Immediately After There's Been Water Damage To My Home?
2/3/2023 (Permalink)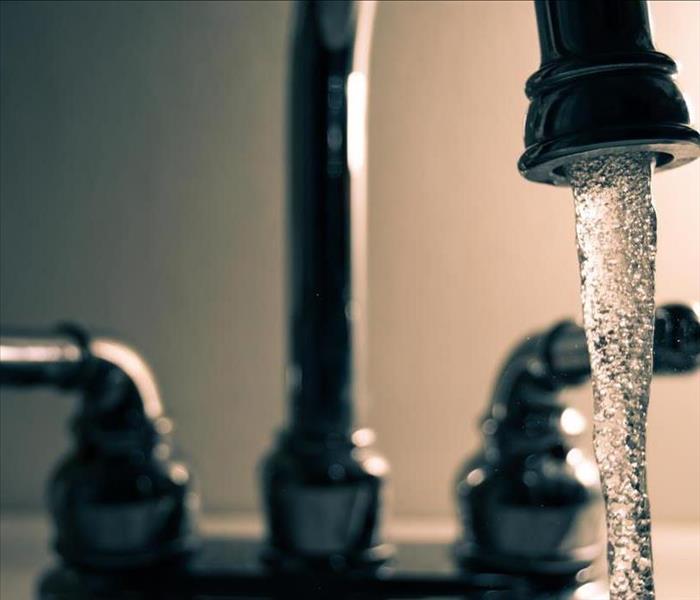 The winter season can be a busy time for many homeowners, and many find themselves away from their homes for the holidays. The absolute worst thing a homeowner can return to is water damage in their home. With temperatures varying from balmy to downright frigid, the winter months can bring the threat of burst pipes and severe water damage.
While we sincerely hope that you never find yourself experiencing a water damage catastrophe, we've put together some tips on what to do should you find yourself the victim of water damage within your home. Here's how to deal with the immediate aftermath of a water issue and properly care for your home to avoid long-term damage.
You've Seen Water – Now What?
If you notice water collecting in any part of your house where it should not (we're thinking anywhere besides inside a sink), immediately find the source of the water. Shutting off your water before finding the source of the leaking water may sometimes inhibit your ability to identify where it's coming from.
If you think water may be collecting somewhere where electrical conduits are, you can turn off the electricity to your home to make investigating safer. Once you've identified where the water is coming from, shut off the water at the closest source. This may be a toilet water shut-off, or it could be your water main itself.

As you work to identify the source of the water, document the problems with the camera on your phone. Not only will this help with your insurance company and claim, but it will also help your restoration company, like SERVPRO East York, understand the source of the water and find where lingering water damage may be hiding. This helps us mitigate the damage to your home.
Water…Everywhere
Try to clean up as much water as you can using towels, mops, and a wet vacuum. Removing water from the area will allow you to begin the drying process.
Call a professional water remediation company as soon as possible. The first 24-48 hours are critical for water damage and cleanup.
SERVPRO East York is a locally owned and established company in the Lancaster, PA area, and we are a leading expert in cleaning up water and properly mitigating the damage to your home. When you contact us with a water damage emergency, we are quick to the scene and begin to clean immediately. Our highly trained water damage specialists remove excess water so we can start the drying and dehumidifying process as quickly as possible. Fast action will lessen the chance that you develop related issues after a flood, such as mold.
Notify Your Insurance Company
When you notify your insurance company and open a claim, your insurance company will most likely ask for documentation, which is when those photos you took of your water damage will come in handy. Most of the time, an insurance adjuster will not be available to come to your home immediately and the water cleanup and remediation will have already started, which is why documentation throughout the entire process is so important.
Water remediation can be a huge expense, so we recommend contacting your homeowner's insurance company as soon as you see water and begin the cleanup process.
Remediate – Using a Pro
Water damage is truly catastrophic and can lead to secondary issues quickly. Did you know mold only takes 24 hours to grow after water exposure? This is why contacting a professional remediation company is crucial.
SERVPRO East York is fast to your home, quick to begin the process, and committed to seeing your remediation process completed correctly. Our highly trained water specialists look everywhere for water damage, not just where the big leak happened. We want to be sure that everything is properly dried out.
No one wants to experience water damage, and homeowners who have experienced it know how devastating it can be. If you experience a water leak and damage in your home, you will have a lot to do. Let the experts at SERVPRO East York take care of you and your home.
Our technicians are available 24 hours a day, 7 days a week, so when a leak hits your home, we're ready. Protect your home from the possibility of mold and other issues after a water leak. Call us, or check out more about our services on our website. You can even read what our customers are saying about us too! Stay warm and dry this winter!